August 15
Newsletter - August 2015
Newsletter - August 2015
In a change to my usual newsletter format, I want to show you some of the fantastic and unusual properties that I'm lucky enough to photograph. I photography holiday cottages, hotels and B&Bs pretty well every day and I get to see some really imaginative uses of space, design and decoration and thought it might be useful to share these with you.
This time I want to show you a couple of properties where the outside space is a real asset and one that the owner has used really well. My job as a photographer is to show this off to its very best. I want anyone viewing these properties on a holiday cottage website to be able to imagine themselves there, enjoying the surroundings. Hopefully that will then prompt them to actually make a booking.
The owner of this converted farm building in Gattonside has made the most of the superb views by adding huge bi-folding doors. These completely open out giving an uninterrupted view and help the living room and outside patio feel like one large living area. As a photographer, this is surprisingly difficult to capture. If I set my camera to expose for the room, then any detail outside is lost and conversely, exposing for the outside means the living room could look dark and gloomy. I get round this problem by taking several near identical photographs at different exposures, some set to capture the inside detail while others are set to show off the distant landscape. These are then later hand-blended together to produce one perfectly exposed image.
Once I have planned my exposure technique, its time to look at styling. I know many people think this all about adding soft cushions etc but it often starts with taking objects away. In fact anything that detracts from the scene is removed (dustbins, fire extinguishers etc). I often move furniture about and perhaps add a few carefully selected props.
I think the final image captures the unique quality of this particular property, especially the wonderful views.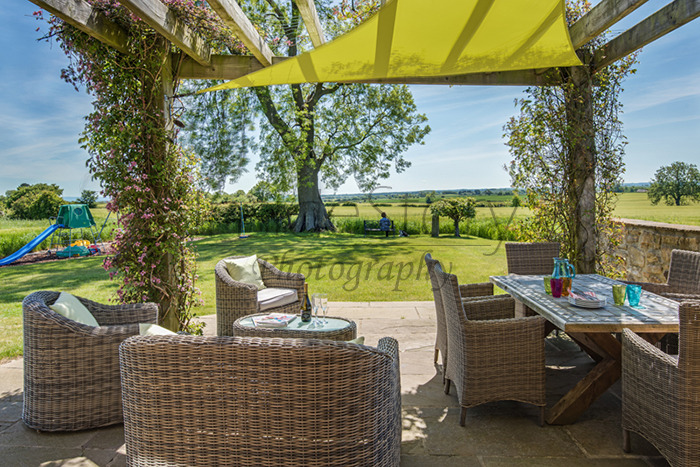 The County Durham/North Yorkshire border is the location for the next property, a holiday cottage converted from an 18th century barn. The outdoor space is really popular with guests and works well for dining or just sitting out and relaxing. The yellow sail was recently added to give guests a little shade. Again photography was trickier than it looks as the background was so light when compared to the shaded foreground. This particular owner preferred a more uncluttered look so I kept props to a minimum. However, the addition of a figure in the background (actually Kate the owner and her dog) was a good idea and works well. The photograph is now used by the owner on a number of websites and is the main photo on the 'Premier Cottages' website.
I have included below a few more examples of properties recently photographed, where balancing the inside and outside views presented a challenge. I have a section on my website called 'See the Difference' which simply shows the property before I start and how it looks once I've finished - the difference is startling . Just click
here
.
If you would like to chat about how I could photograph your property, please phone me or send an email (see my
'Contact'
page).